Back to all posts
Posted on
Employment Opportunity - School Health Facilitator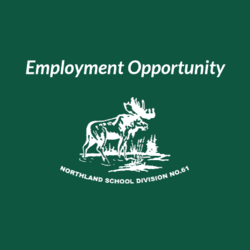 Elizabeth School is seeking candidates for the position of part-time (0.50 FTE) School Health Facilitator (SHF). The School Health Facilitator will collaborate with key stakeholders to create a healthy school community. This position works with and provides leadership to all members of the school community, including school administration, staff, students, parents, Elders, school council members, school division staff, cultural leaders and other relevant community groups or individuals. The SHF uses a shared leadership model to plan and implement goals and actions in partnership with parents, staff, students and community members.
The individual chosen for this role should be prepared to support the needs of the school community for a minimum of two school years from September 2019 to June 2021. An understanding of local culture, supports and services is an asset.
The School Health Facilitator should possess, or be willing to learn, the following attributes:
Ability to work with a variety of stakeholders;e.g., students, parents, administration, Elders, community leaders. 
Understanding of the existing health and wellness stakeholders in the school community. 
Knowledge of existing provincial policy, regional or local policies related to healthy eating and active living; e.g., School nutrition guidelines and school division priorities. 
Knowledge of current and local resources, supports, stakeholders related to Comprehensive School Health.
Knowledge of current curricula related to healthy schools;e.g., Physical and Health Education. 
Confidence to present formally and informally to many stakeholders. 
Understanding of local culture and traditions.
Strong oral and written communication skills.
Strong leadership, organizational and time-management skills.
Ability to organize and facilitate effective meetings.
Ability to work with minimal supervision and demonstrates strong initiative. 
Strong motivational, interpersonal and negotiation skills. 
Successful applicants will possess:
Undergraduate degree or certification in Health Promotion, Nutrition, Physical Education, Recreation, Education, Health Education or related area (preferred but not required). 
Experience in health promotion, education, physical activity or nutrition education would be an asset. 
Experience working with Kindergarten to Grade 12 children in schools would be an asset. 
Knowledge and understanding of how to engage in relationships at the individual, familial and community levels is preferred. 
Demonstrated cultural sensitivity. 
Salary will be commensurate with experience and education.
Please apply with references to:
Mark Burke
Principal
Elizabeth School
P.O. Box 68, Cold Lake, Alberta T9M 1Pl
Phone: (780) 594-2017
Fax:(780) 594-3111
Email: mark.burke@nsd61.ca