Back to all posts
Posted on
Elizabeth School students invited to dance at Métis Settlements General Council office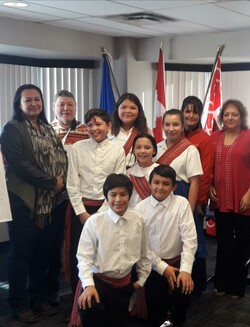 Six Elizabeth School students were invited to dance at the Métis Settlements General Council office during Métis Week. Métis week commemorates Louis Reil's trial and execution of Nov.16, 1885. 
In the picture from left to right:
Back Row: Gwen Lepine, Elizabeth Settlement Councillor, Gerald Cunningham, Metis Settlements General Council President, Eja Jacknife, Adrianne Berland, Zoey Cardinal, Kate Blackman, Laurie Collins, Elizabeth School Teacher
Front Row: Dallas Jacknife and Teagan Crookedneck.