Back to all posts
Posted on
Elizabeth School presented award for student attendance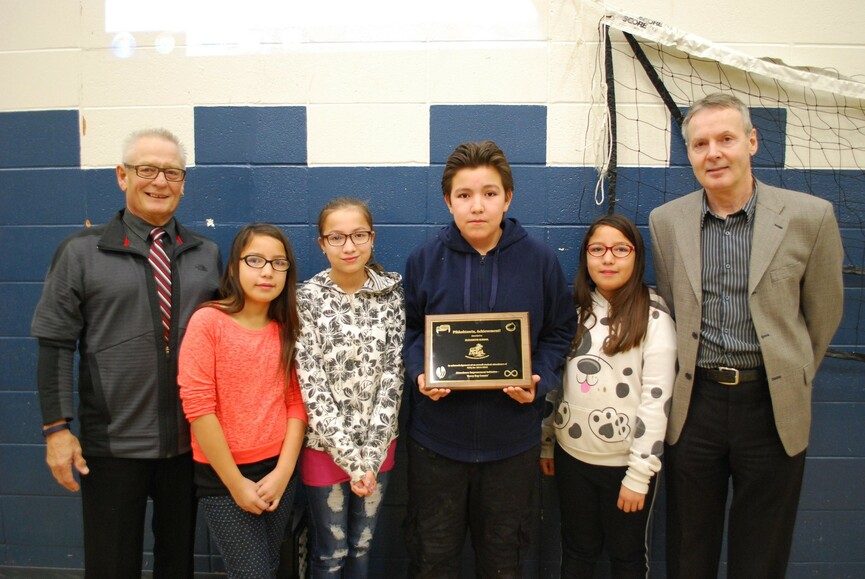 On a mild winter day in December, students, school staff, parents, elders and community members gathered in the school gymnasium to celebrate special achievements. This highly anticipated event started with a special presentation by Northland School Division Associate Superintendent Don Tessier. Mr. Tessier presented the school with a plaque in acknowledgement of an overall student attendance of 92% for 2014-2015. This recognition is part of a division-wide attendance focus for Northland School Division. Click here to learn more about the Attendance Improvement Initiative - 'Every Day Counts'.
In addition, school clubs (girls volleyball, boys basketball, school choir, Youth Action and Journaling Through Art and Music) were recognized and everyone enjoyed performances by ECS, grade 1 and grade 4 students. 
Monthly School Awards
Highest classroom attendance for November:
Grade 4 classroom
Student of the Month
ECS: Eva Janvier
Grade 1: Cash Desjarlais
Grade 2: Zoey Desjarlais
Grade 3: Bryce Blyan
Grade 4: Preston Corrigal
Grade 5: Jaydon Desjarlais
Grade 6: Maria Collins
Grade 7: Marley Thompson
Grade 8: Amelia Lepine
Support Staff Employee of the Month
Hot Lunch Program staff Katrina Cardinal and Shirley Cardinal
Cree Language Classrooms of the Month
Grade 1, Grade 3 and Grade 7-8!